Christmas at Charlene's
"I love Christmas!" Charlene Roberts, the owner of Charlene's Colony of Shoppes in Halls, expressed with joy, "I love the Holidays, especially Christmas, from the ornaments, greenery, ribbon, fragrant scents, and all the joy it brings…My mother, Mary Lou McMahan - known as Nanny, made every holiday special. She loved bringing out the decorations for each season, but Christmas was her favorite. That love of decorating has been passed down to me, and I love making every holiday special."
It was a dream, a passion, and a mission for Roberts to provide distinctive merchandise at affordable retail prices. Charlene's Colony of Shoppes includes Just Divine Tea Room, My Sister's Closet, and the recently added Neely's Farmhouse; and, of course, Charlene's. The shops provide not just a great place to shop and find cool things you can't find anywhere else, but it has become a place that brings joy, a place in which to escape and find calm and beauty, a place that is a 'happy spot' for people to come. Even if they don't buy anything more than a 'divinely' good lunch, they can leave with ideas to make their home beautiful.
Over the thirty years that Charlene's has been here, it's grown quite a bit: "We were in a barn that originally belonged to my husband Ronnie's grandfather. Then, in one summer, we moved seven buildings to create the 'Colony.' The Just Divine Tea Room was once the Hales Point Church that set on stilts near the Mississippi River in Lauderdale County. We cut it in three pieces to move it and make it into the tearoom. Neely's Farmhouse was the original hospital building on the WWII Airbase in Halls, and the Attic, the first building you pass as you come in was once a tenant house on a farm near Halls," Roberts continued, "The attached building at Neely's was once a slave's quarters - complete with square nails and shake shingles." After a fire in 2007, Charlene's rebuilt to the current building. She also added her daughter to the mix. Rachel Cunningham has worked in the store for the last ten years. "I wanted her to find her own passion; this is mine, and I wanted to be sure that she followed her own," Roberts smiled, "Rachel is a huge asset in rugs, artwork, lighting, and less traditional taste. We have a mix of tastes in design which allows us to hit all demographics."
Every day, you see something new at Charlene's. It's a gift store, a furniture store, and with the addition of Robert's daughter Rachel, the offerings include an in-house design team. "People can bring photos of their room or whole house plans and we will sit down with them by appointment and offer advice." Cunningham added, "That includes helping with paint choices, rug sizes, and furniture placement. Anything that is offered in an in-house consultation is a service for our customers with no obligation to purchase — concept to completion."
Charlene's offers a large variety of wood furniture, stained and painted, lighting, a rug gallery, and accessories. They also offer an in-house floral designer on Wednesdays and Thursdays, and now they also showcase Joanna Gaines Magnolia Home Rugs "Sometimes people pull photos or pages from a magazine. They are overwhelmed with trying to make it look even close to that — just bring it in and we can make it happen," Cunningham encouraged. With the large amount of furniture that can be customized with fabric from several companies available, you can truly create your dream. Roberts has three-to-four 53-foot containers a year that come in with case goods in a volume to keep the prices affordable. "We love to make people happy," Cunningham smiled, "We buy from five markets a year and buy with our customers in mind."
And they have warehouses full with different options — all you have to do is ask. Every time you come in, you will see something new as trucks run daily with new things — and you can double that around Christmas! But one thing you need to remember, if you love something in the store and want to think about it, you need to take a picture of both the item AND the tag. That allows you to think about it, and then call them to make sure it's still there. "Please take a picture of the tag!" Cunningham explained, "If you have the tag, even if we don't still have it in the store, we can order it from the item number"
Customers that come to Charlene's drive for over an hour in some cases. They come from Arkansas, Missouri, Mississippi, Memphis, and of course, West Tennessee. "We want to make sure that it's worth it for them — that it's special and that we can give them something to treasure, even if it's just a time to remember and ideas to love." Roberts considered for a moment, then added, "We are very conscious of differing budgets and design ideas. Especially at Christmas, when sometimes it's a tiny little thing for someone special that can spread Christmas Joy. We want to make sure our customers have FUN, enjoy the feast for their eyes, and go home with unique room ideas."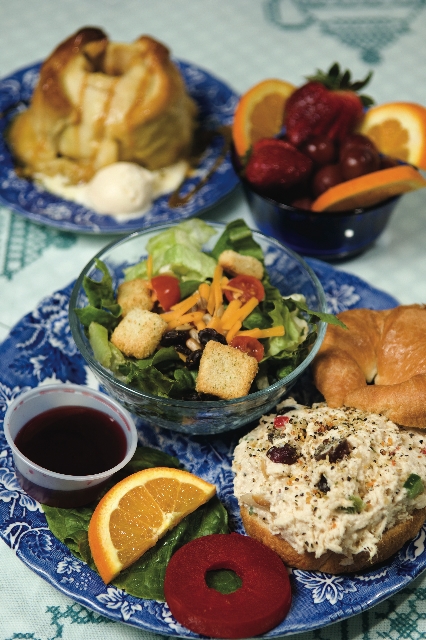 It certainly takes a team to make Charlene's perfect each day. With over 400 different vendors' offerings, it takes warehouse people, designers, people to tag, people to display — it's a small army of jobs to be done and their team is a big family.
"We want our customers to feel like friends, a part of our family as well, people keep coming and bringing their friends to enjoy what we do, and some of them have become friends for life!" Roberts happily added, "Our shop is comfortable — anybody with an apron can help you." Their tagline on the bottom of their event calendar reads: "We rejoice in your presence and look forward to seeing you. — Charlene, Rachel and Staff"
The thing is, you feel that way when you walk in, smell the smells of the season and are greeted with all that is Charlene's. The overwhelming sense of beauty makes you feel that 'all is right' with the world — and if you can take a little of that feeling home with you…The value is truly priceless!
Upcoming events include the November 16th Girl's Night Out and starting on December 19th, Christmas will be on sale. Charlene's is open Tuesday through Saturday, 10am - 5pm. The Team Room will open at 6pm on Girls Night Out. Watch for photos on the Cypress blog of their October 26th Girls Night Out — and watch and follow their facebook page and instagram for additional info!
How to get there? The address is 2257 Hwy 88 West in Halls, TN. The phone number is (731) 836-5418 if you need more information or directions.